Author: Meredith Potts
Narrator: Lisa Beacom
Publisher: Meredith Potts
Series: The Daley Buzz Cozy Mysteries, Book 2
Released: Jan. 25, 2018
Genre: Cozy Mystery

Synopsis:
Sabrina Daley's world is turned upside down when a local psychic predicts that her missing sister will be found.

Unfortunately, the psychic, Miss Terri, is unable to provide any further details.

Desperate for something more to work with, Sabrina shows up at Miss Terri's house the next day, ready to beg for another psychic reading. Instead, Sabrina finds Miss Terri's lifeless body.

So when the local police have trouble solving Terri's murder, Sabrina sets out to bring the psychic's killer to justice before they strike again.


Author Bio:
Meredith Potts loves corgis, cupcakes, and captivating books. Her mysteries usually feature all three.

Sign up to my audio book mailing list here and be the first to find out about my newest books.
Narrator Bio:
Lainie Pahos is a Chicago native who is currently based in Los Angeles continuing her work on stage and screen.
Schedule:
Book One
Mar. 8th:
Mar. 9th:
Mar. 10th:
Mar. 11th:
Mar. 12th:
Mar. 13th:
Mar. 14th:
Book Two
Mar. 15th:
Mar. 16th:
Mar. 17th:
Mar. 18th:
Mar. 19th:
Mar. 20th:
Mar. 21st: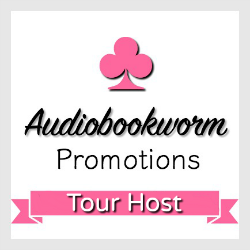 ➜Sign up as a host here
My name is Elena. Since I was a little child I loved science fiction and fantasy, and I can't resist a good novel. In 2015, while wait I started to listen to audiobooks and I discovered the pleasure in being able to read while doing my daily tasks, so there's always an audiobook playing on my phone. If you see me with my Bluetooth headphones on, please be gentle, I get easily startled.
I live with my boyfriend, which I met during my six-year stay in Belgium, four cockatiels, eight lovebirds, and a hamster in Madrid, Spain; and I like to spend my free time knitting and sewing while listening to audiobooks.